Established in 1993, Cedar Electronics Limited is a manufacturer of consumer electronics and promotional gifts, specialized in developing and producing premium calculators, novelty clocks, weather station clocks, art clocks, digital calendars, electronic game players, clock radios, digital video cameras, portable media players, digital photo frame, USB flash drivers, electronic gifts and novelties. The products cover following ranges of innovative items.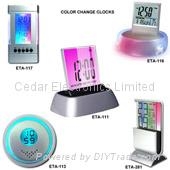 LCD Clock & LED Clock:
Digital Alarm Clock with Colar-Changing Backlight, and Calendar, Thermometer, Hygrometer, Timer, Music Playing, Radio Controlled Clock Available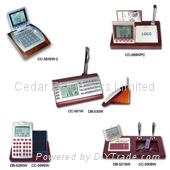 LCD World Time Calendar:
Desktop Digital Calendar with Alarm Clock, Timer, Calculator, Databank, Currency Converter, Notebook, Pen holder, Namecard Holder.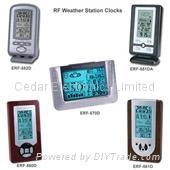 Weather Station & RCC Clock:
Indoor / Outdoor Thermometer & Hygrometer, Radio Controlled Clock, World Time, Weather Forecast, Moon Phase, Sunrise & Sunset Times Display.
Projection Clock:
LCD Alarm Clock With Digital Calendar, Digital Thermometer, Music Enjoyment, Time & Temperature Projection, FM Radio, Night Light.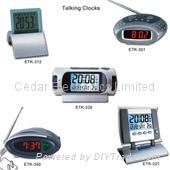 Talking Clock:
LCD Alarm Clock or LED Alarm Clock with Digital Calendar & Thermometer, Recorder, Projector, FM radio, Night Light, and Time Talking Function.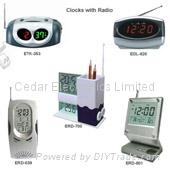 Clock Radio & Clock Controlled Radio:
Clock Radio with LCD Calendar, Digital Thermometer & Hygrometer, World Time, Pen Holder, and PLL Radio, Gift Radio.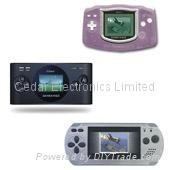 Electronic Game Player:
Including Handheld Game, Video Game, Casino Game, Sudoku Game, Golf Game, TV game, Cartridge Game.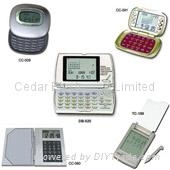 Calendar Calculator:
Calculator with Digital Calendar, World Time, Alarm clock, Timer, Databank, Currency Converter, Game, and Cardcase.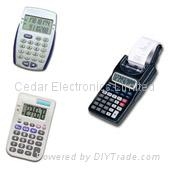 Electronic Calculator:
Including desktop calculator, pocket calculator, printing calculator, scientific calculator, organizer calculator, premium calculator, euro calculator, currency converter.